Antistatic Products Maintenance Kit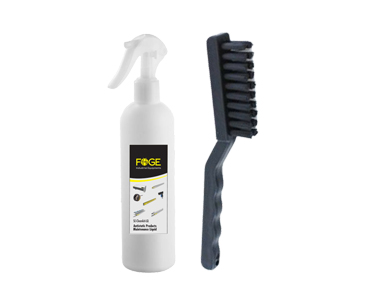 Antistatic Products Maintenance Kit
It must be cleaned regularly to maintain the efficiency of the anti-static device.
Regular cleaning and maintenance will prolong the working life of the device and increase productivity.
FÖGE Antistatic Products Maintenance Kit is designed for the maintenance of
Anti-static bars, Air blowers, anti-static air guns, and other anti-static devices.
Why anti-static products get dirty?
• The strong electric field naturally attracts airborne dust and contaminants.
• Carbonization of the air by the high voltage causes carbon to accumulate in the electrode body.
• In applications on fabric, ink or dirt may be contaminated from the fabric.
The special solution in it provides cleaning of dust and dirt on your anti-static
products. It offers long-lasting use.
The cleaning solution is non-conductive and does not contain water. It consists of
a mixture of solvent and cleaning chemicals to remove the most stubborn dirt. It
is specially produced for FÖGE products and cleans without damaging the
product. Evaporates without leaving any residue.
Brush measuring 225 x 35 x 22 mm is easy to hold and durable. The cleaning brush consists of nylon filaments with a diameter of 0.35 mm and a depth of 20 mm.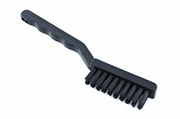 Dirty anti-static pins can cause circuit overload and short circuit.
The dirtier the pins mean the lower the efficiency.
You will :

Important:
Switch electrode OFF and do not switch ON until it is dry.
The frequency of cleaning depends on the process and environment.
The cleaning fluid can be poured directly onto the electrode or it can be applied with spray head.
Usage Instruction:
1- Clean the static control device using the FÖGE cleaning brush.
2- Attach a spray head to the bottle containing the cleaning fluid.
3- Moisten a cloth with Cleaning Fluid and wipe the Static Control Device being careful around the emitters.
4- Repeat brushing and cleaning steps by making sure Static Control Device is clean.
5- Polish the pins carefully with a dry cloth.
Safety:
Designed for regular cleaning of ionization systems. Evaporates without leaving
any residue. Water-free and non-conductive. Use undiluted.
Ingredients: Solvent mixture. Contains isoparaffins. Free from halogenated and aromatic hydrocarbons.
Hazard Statements:

H304: May be fatal if swallowed and enters airways.
H413: May cause long lasting harmful effects to aquatic life.
EUH066: Repeated exposure may cause skin dryness or cracking.
Precautionary Statements:
P273: Avoid release to the environment.
P301 + P310: IF SWALLOWED Immediately call a
POISON CENTER or doctor/physician
P331: Do NOT induce vomiting
P405: Store locked up
P501: Dispose of contents and container in
accordance with local regulations.

Material Safety Data Sheet TR

Material Safety Data Sheet EU